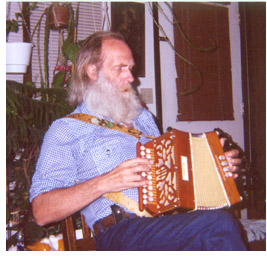 Bill with his "buttonbox"...oh with what ease! Never without a song or story. What a marvelous treat and world-class entertainer!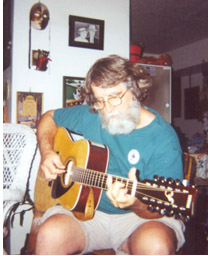 Allan C. melts our hearts with a love song....mmmmm, such a beautiful voice and gorgeous guitar-playing!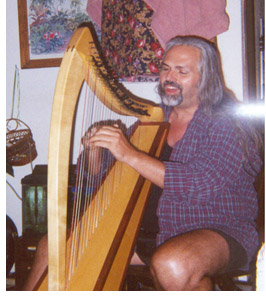 Mudcatter Mimosa takes us to other realms with sublime harp-playing and singing...behind him, the cage of the infamous cockatiel, C-more, is draped with towels. That bird still *chimed in*!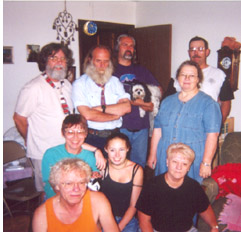 The Great Mudcat Adventure in Casper!

Left to right, starting in the back: Allan C., Bill Sables, Mimosa & Puck; Sorcha's hubby, Brian, Katlaughing,

In front of kat, sitting, in black shirt, her sister, Betty, next to her is Sorcha's daughter, Caitlyn, then Sorcha in the turquoise, and kat's brother, Del, in the orange tank top...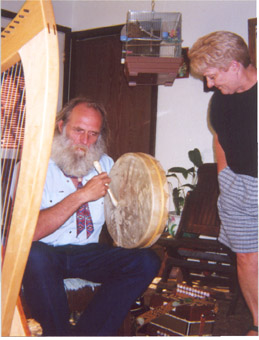 Bill turns kat's Native American drum into a bodhran with a tipper from Brian, while Betty looks on.
What in the world is a Mudcatter? Just click on the link which says "The Mudcat Cafe" and you'll find THE best traditional & blues music site on the web, featuring a lyrics database, midi and lyric songbooks, Wednesday night LIVE radio with video show, and Virtual Song Circles, as well as a lively Discussion Forum. Tell 'em "katlaughing" sent you!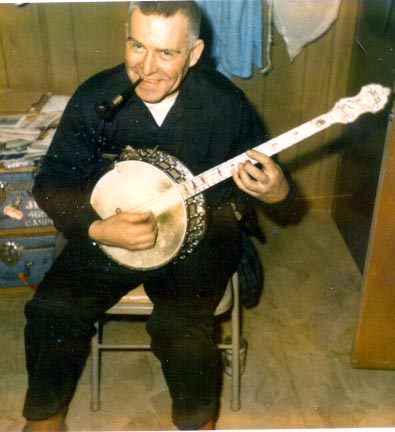 Kat's dad, Sparky, passing the time on Amchitka Island Alaska circa 1969. At 83, he drives 60 miles round trip, 2-3 times per week, to entertain the "old folks" where he lives, playing that same banjo and other instruments.